IP, media and privacy law are constantly moving. Its boundaries are challenged daily. What's allowed and what's not. Herein lies the core of our work. Work that keeps challenging and inspiring us.
filter on category:
Chanel vs. 'What about Yves'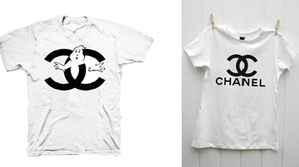 The American fashionlabel 'What about Yves' has integrated the Chanel logo together with the Ghosbuster logo in one of its new T-shirt lines. Chanel initiated proceedings against the clothing label in the U.S.. Chanel claims the new line infringes its copyright and trademark rights vested in the Chanel logo (the two interlocking C's). The public could might think that the design of the T-shirst originates from Chanel, while it has nothing to do with 'What about Yves'.
It is not the first time 'What about Yves' uses a logo of high fashion house as inspiration for images on its clothing. After the other French fashion house Yves Saint Laurent (YSL) mid-2012 announced it would continue under the new name Saint Laurent Paris, the label released T-shirts with the text 'Ain't Laurent without Yves'. YSL has successfully acted against these T-shirts, after which they were removed from the market.
» visit website