IP, media and privacy law are constantly moving. Its boundaries are challenged daily. What's allowed and what's not. Herein lies the core of our work. Work that keeps challenging and inspiring us.
filter on category:
Google removes search tool regarding Torrent websites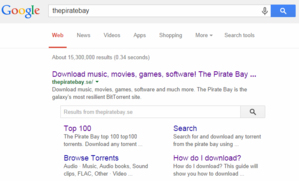 Recently Google has introduced a new search tool that allows users to search directly within a website. (see picture) The search tool formerly also displayed search results containing torrent sites like The Pirate Bay, Isohunt.to and Torrentz.eu. Google has now removed the search tool in relation to results displaying the torrent sites. Google did not (yet) explain why the search tool has been removed. The reasons for the removal are therefore not officially known. The torrent sites themselves can still be found through Google.
A striking action by Google. In a landmark judgement the Court of Justice of the EU recently introduced an 'illegal' download ban. With the ability to search directly within the infringing torrent sites through Google, Google could be be (indirectly) facilitating illegal downloading. It could be an action to accomodate the rightholders. However, this does not explain why the torrent sites themselves are still displayed in Google search results.
» visit website