IP, media and privacy law are constantly moving. Its boundaries are challenged daily. What's allowed and what's not. Herein lies the core of our work. Work that keeps challenging and inspiring us.
filter on category:
Van Kaam advocaten highly recommended by Legal 500 and MLI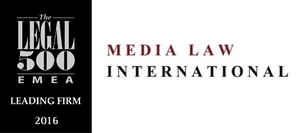 Van Kaam advocaten has been highly recommended by The Legal 500 and Media Law International for the practice areas Media & Entertainment and Intellectual property.
The Legal 500 describes Van Kaam advocaten as follows:
Media & Entertainment - ''Bertil van Kaam and Remco Klöters head the 'excellent' practice at Van Kaam Advocaten, which is praised for its knowledge, speed, 'hands-on approach' and 'great value for money'. It's clients include RTL Nederland, AVROTROS and Q-Music.''
Intellectual property - ''Van Kaam Advocaten's 'excellent' department is led by the 'very experienced' Bertil van Kaam, with strong support from the 'hands-on', 'street-smart' Remco Klöters. The team successfully represented AVROTROS against a claim brought by Getty Images regarding wrongful use of images.''
For more information see here and here.
A clients view of Van Kaam advocaten in Media Law International:
''They are thorough negotiators, very knowledgeable in the field of civil defamation cases and have an excellent track record in these matters.''
See here for more information.